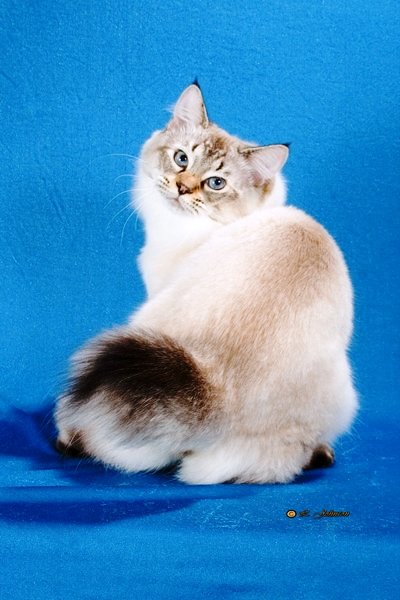 Please visit our new home at
http://shelbiecats.com/
American Bobtail - The American Bobtail is one of CFA's newest breeds, being accepted for registration and Miscellaneous status in 2000 and Championship status in 2006. We are very proud to have worked through the Miscellaneous and Provisional status with our cats and have now become CFA's foremost breeder of American Bobtails. The American Bobtail is a natural mutation and a "working breed" of cat and should possess all of the qualities of a natural hunting cat. They are medium to large in size, with males weighing from 12-25 pounds and females from 8-16 pounds. They come in both longhair and shorthair. They are extremely intelligent, loving, and very playful. We like to say that they are dogs in cat's clothing as they love to carry things around in their mouth and can easily be trained to play fetch and walk on leashes, wagging their little tails all the while. The American Bobtail is great for kids because they do not mind being carried around like a sack of potatoes, but would fit well into any living situation. Their coat requires some upkeep because it is very dense. We recommend bathing every 1-2 months and weekly combing with a metal toothed comb. Because the American Bobtail is such a new breed and we are still allowed to bring in foundation stock, the gene pool for the breed is virtually unlimited, therefore making the American Bobtail an extraordinarily healthy breed with no known hereditary issues and also having a substantial life span. The average pet price range of an American Bobtail kitten $800-$1500. We occasionally have young retired adults available, and their price range is from $300-500. Some of the colors of American Bobtails that we work with are solids, parti-colors, tabbies, lynx points, minks, and sepias.

Congrats to our 2021-2022 Winners!
The Cat Fanciers' Association (CFA)
GC, BWR, NW NUDAWNZ DOBUTSU NO MORI - CFA's BEST CAT, R1-9, CFA's Best Japanese Bobtail Longhair and first Japanese Bobtail to achieve best in any competitive category. GLR's Best Cat in Championship.
GC, NW SHELBIE'S DRESSED FOR SUCCESS - CFA's 17th Best Kitten, R1-9, SWR's Best Kitten
GP, NW NUDAWNZ MON AMOUR OF CECCHETTI - CFA's 9th Best Cat in Premiership, GSR's Best Cat in Premiership. NuDawnz First CFA NW Aby of our own breeding.
GC, BWR, RW SHELBIE'S JUDITH GRIMES - CFA's Best American Bobtail LH, R1-9. SWR's 16th Best Cat in Championship
GC, BWR, RW NUDAWNZ SHE'S KEROSENE - CFA's Best Balinese - Javanese, R1-9, GLR's 15th Best Kitten
GC, RW NUDAWNZ ODOROKUBEKI ISAN - GLR's 10th Best Kitten
GP, RW SHELBIE'S OWEN FILIUM - SWR's 9th Best Cat in Premiership
GP, RW SHELBIE'S REDFORD FILIUM - SWR's 16th Best Cat in Premiership
GC SHELBIE'S BETH GREENE - CFA's 2nd Best American Bobtail - LH, R1-9
GC SHELBIE'S MULSI FILIA - CFA's 3rd Best American Bobtail - LH, R1-9
GC NUDAWNZ AT LAST - National Best All Other Pointed & White Ragdoll, R1-9
GC RAGMAGIC ALLWENEEDIS A DREAM - National 2nd Best Seal Point & White Ragdoll, R1-9
Disginguished Merits:
GC, BW, NW SHELBIE MAGNUM OPUS OF NUDAWNZ, DM - Seal Mink Ticked Tabby LH American Bobtail Male
GC NUDAWNZ RASTABAN, DM - Chocolate Lynx Point Colorpoint Shorthair Male
GC SHELBIE ARTIC WILLOW, DM - Brown Mac Tabby LH American Bobtail female
GC SHELBIE'S PYRITE, DM - Brown Sptd Tabby LH American Bobtail female
TALETALKERS PIPPIE LONG TAIL,
DM
- Silver Tabby LH American Bobtail Male