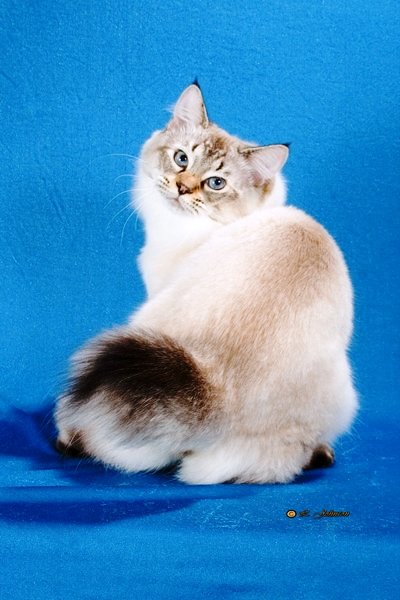 Please visit our new home at
http://shelbiecats.com/
American Bobtail - The American Bobtail is one of CFA's newest breeds, being accepted for registration and Miscellaneous status in 2000 and Championship status in 2006. We are very proud to have worked through the Miscellaneous and Provisional status with our cats and have now become CFA's foremost breeder of American Bobtails. The American Bobtail is a natural mutation and a "working breed" of cat and should possess all of the qualities of a natural hunting cat. They are medium to large in size, with males weighing from 12-25 pounds and females from 8-16 pounds. They come in both longhair and shorthair. They are extremely intelligent, loving, and very playful. We like to say that they are dogs in cat's clothing as they love to carry things around in their mouth and can easily be trained to play fetch and walk on leashes, wagging their little tails all the while. The American Bobtail is great for kids because they do not mind being carried around like a sack of potatoes, but would fit well into any living situation. Their coat requires some upkeep because it is very dense. We recommend bathing every 1-2 months and weekly combing with a metal toothed comb. Because the American Bobtail is such a new breed and we are still allowed to bring in foundation stock, the gene pool for the breed is virtually unlimited, therefore making the American Bobtail an extraordinarily healthy breed with no known hereditary issues and also having a substantial life span. The average pet price range of an American Bobtail kitten $800-$1500. We occasionally have young retired adults available, and their price range is from $300-500. Some of the colors of American Bobtails that we work with are solids, parti-colors, tabbies, lynx points, minks, and sepias.

Congrats to our 2019-2020 Winners!
The Cat Fanciers' Association (CFA)
GP, NW NUDAWNZ GOOD TIMES ROLL - CFA's 4th Best Cat in Premiership, R1-9 for 2020! "Ricky" is also the highest scoring owner bred cat in Premiership, and has beaten the record for highest ranking of any Balinese in CFA history! He's also GLR's 2nd Best Cat in Premiership. Co-owned by The Friemoths & Jason-Lucy Gallion.
GC/BWR/NW Doll Villa's My Love Story of NuDawnz - CFA's 9th Best Kitten & CFA's Best Ragdoll in Championship for R1-9, GLR's 4th Best Kitten and 15th Best Cat, Co-owned by The Friemoths, Jason Gallion, Lauren Tan, and Samantha Kerr
GC/BWR/RW NuDawnz Time After Time - CFA's Best Balinese in Championship for R1-9, GLR's 25th Best Cat in Championship.
RW Shelbie's Judith Grimes - SWR's 7th Best Kitten
CH/RW Shelbie's Tick Tick Boom - SWR's 8th Best Kitten
GC/RW Shelbie's Mocha Latte of Moonglade - SWR's 17th Best Kitten, First American Bobtail SH Kitten regional winner in breed history. Co-owned by The Friemoth Family & Nicole Turk
GP/RW Shelbie's Primium Filium - SWR's 14th Best Cat in Premiership (thank you, Roberta, for showing him!)
GP/DW Shelbie Sir Reginald of Cornyherd - HK's 16th Best Cat in Premiership (thank you to Cherry Ann and Donald for showing him!)
GC/RW Purricurls's Will Be Continues - SWR's 22nd Best Kitten, co-owned by Shelby & Lorna Friemoth & Larissas Zhou
GC/RW A-Kerr's Rise Above - CFA's 2nd Best Bengal in Championship for R1-9, GLR's 20th Best Cat in Championship. Co-owned by Lorna Friemoth & The Kerr Family.
GC Chome Chai Mezashi of NuDawnz, DM - Japanese Bobtail Female Distinguished Merit
Shelbie's Chocolatini,
DM
- American Bobtail Female Distinguished Merit