Ragdoll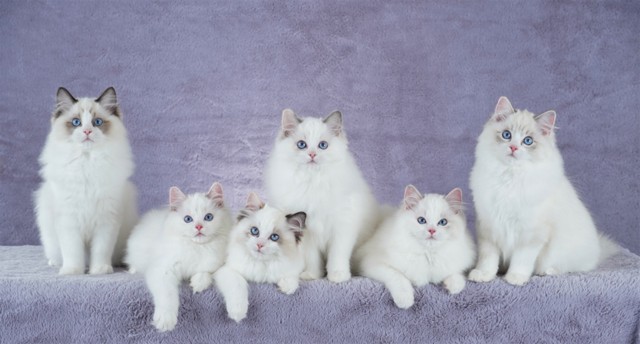 Ragdolls are large, laid-back, semi longhaired cats with captivating blue eyes. The Ragdoll is a pointed breed, which means that the body is lighter in color than the points (the face, legs, tail and ears). The Ragdoll cat is carefully bred to produce large affectionate animals in three patterns, two with white (mitted and bi-color) and one with no white (colorpoint). The ideal Ragdoll is a well-balanced cat, with no extreme features. Altered males will usually top the scale at 15-20 pounds; females are proportionately smaller and usually weigh between 10-15 pounds at maturity. Ragdolls are slow maturing, reaching full coat color at two years, and full size and weight at four.
The average pet price range of pet Ragdolls is $2000-3000. We occasionally have young, retired adults available, and their price range is from $700-$1000.
We currently raise the Bi-color pattern of Ragdolls in seal, blue, seal lynx, blue lynx, reds, creams, and torties.

Congrats to our 2021-2022 Winners!
The Cat Fanciers' Association (CFA)
GC, BWR, NW NUDAWNZ DOBUTSU NO MORI - CFA's BEST CAT, R1-9, CFA's Best Japanese Bobtail Longhair and first Japanese Bobtail to achieve best in any competitive category. GLR's Best Cat in Championship.
GC, NW SHELBIE'S DRESSED FOR SUCCESS - CFA's 17th Best Kitten, R1-9, SWR's Best Kitten
GP, NW NUDAWNZ MON AMOUR OF CECCHETTI - CFA's 9th Best Cat in Premiership, GSR's Best Cat in Premiership. NuDawnz First CFA NW Aby of our own breeding.
GC, BWR, RW SHELBIE'S JUDITH GRIMES - CFA's Best American Bobtail LH, R1-9. SWR's 16th Best Cat in Championship
GC, BWR, RW NUDAWNZ SHE'S KEROSENE - CFA's Best Balinese - Javanese, R1-9, GLR's 15th Best Kitten
GC, RW NUDAWNZ ODOROKUBEKI ISAN - GLR's 10th Best Kitten
GP, RW SHELBIE'S OWEN FILIUM - SWR's 9th Best Cat in Premiership
GP, RW SHELBIE'S REDFORD FILIUM - SWR's 16th Best Cat in Premiership
GC SHELBIE'S BETH GREENE - CFA's 2nd Best American Bobtail - LH, R1-9
GC SHELBIE'S MULSI FILIA - CFA's 3rd Best American Bobtail - LH, R1-9
GC NUDAWNZ AT LAST - National Best All Other Pointed & White Ragdoll, R1-9
GC RAGMAGIC ALLWENEEDIS A DREAM - National 2nd Best Seal Point & White Ragdoll, R1-9
Disginguished Merits:
GC, BW, NW SHELBIE MAGNUM OPUS OF NUDAWNZ, DM - Seal Mink Ticked Tabby LH American Bobtail Male
GC NUDAWNZ RASTABAN, DM - Chocolate Lynx Point Colorpoint Shorthair Male
GC SHELBIE ARTIC WILLOW, DM - Brown Mac Tabby LH American Bobtail female
GC SHELBIE'S PYRITE, DM - Brown Sptd Tabby LH American Bobtail female
TALETALKERS PIPPIE LONG TAIL,
DM
- Silver Tabby LH American Bobtail Male


The International Cat Association Winners:
IW SGC NUDAWNZ PISTOL PETE OF GRAPE ARBOR - TICA's 9th Best Allbreed Cat, Southwest Region's Cat of the Year.

RW BW SGC NuDawnz Dobutsu no Mori, Great Lakes Region's 7th Best Allbreed cat, TICA's Best Japanese Bobtail Longhair of the Year
RW QGC Ragmagic All We Need Is A Dream, Great Lakes Region's 21st Best Longhaired Cat
RW GC Abylove*Ua Gerbera of Nudawnz, Great Lakes Region's 20th Best Shorthaired Cat
RW SGCA
Nudawnz Good Times Roll, Great Lakes Region's 14th Best Alter